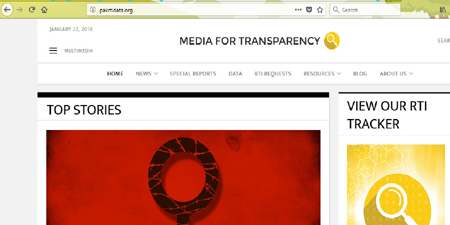 JournalismPakistan.com January 22, 2018


ISLAMABAD - Pakistani journalists interested in data journalism and the use of the right to information (RTI) laws can look to a new website for support and guidance.
Media Matters for Democracy (MMfD) launched a website for its Media for Transparency initiative Monday. The website (pakrtidata.org) will provide local journalists with access to open data sets, data-driven news content, guidance on RTI laws, as well as tip sheets and resources on data journalism.
Sadaf Khan, Director Programs MMfD, said the website could help motivate Pakistani journalists.
"As the information ecosystem in Pakistan opens up, it is important to demonstrate how this public information can best be used to produce investigative journalistic content that can help increase transparency," Sadaf Khan said. "We hope that by producing and publishing engaging multimedia content based on public data, we can inspire other journalists in the country to do the same."
The information published on the website is divided into several sections. The News section offers data stories and analysis written by the MMfD staff. The news stories will cover themes of health, education, politics, public safety, human rights, and the implementation of RTI laws.
One of the key features of the website is an RTI tracker, through which MMfD team is monitoring implementation of provincial and federal RTI laws by tracking the status of RTI requests filed to public bodies across the country.
Under the Media for Transparency initiative, the team intends to submit and follow over 100 information requests to various government departments and agencies at the federal and provincial levels. Visitors can click the links in the RTI tracker to read details of each information request.
Journalists can benefit directly from the Data section, which provides them access to open data sets that have been acquired and cleaned by the MMfD staff.
Journalists are encouraged to use these data sets for their data-driven news reports. The data sets consist of public records acquired by MMfD through either successful RTI requests or scraping information that has been proactively disclosed by various public bodies.
A Resources section features links to MMfD's guidebooks on data journalism and RTI laws as well as tip sheets, copies of laws, and sample RTI requests.
Waqas Naeem, the project manager of Media for Transparency, said he was hopeful that Pakistani journalists will use the resources MMfD has put together online.
"Journalists who are looking to work on data-driven news stories can check out our website's Data section for relevant public records and the Resources section for tips and techniques on data processing and analysis," Naeem said.
The website's Blog section provides updates on the project along with information on both data stories appearing in the mainstream Pakistani press and the reporters who are using data journalism skills in their news reporting.
Another important section is that of Special Reports, which will soon be populated with in-depth investigative stories produced by the MMfD reporting staff.
The Media for Transparency initiative aims to combine data journalism skills with the use of RTI laws to produce investigative news stories. A team of senior reporters is working with the MMfD team to produce a set of investigative, long-form multimedia stories to demonstrate the journalistic potential of RTI acquired data. The initiative also includes a capacity-building component under which basic data journalism training has been conducted in Karachi, Lahore, Peshawar and Islamabad in October and November 2017. These pieces of training were attended by 40 journalists altogether.
Ten of the best training participants were brought together in December 2017 for a five-day residential boot camp on data and investigative reporting in Murree. The boot camp participants are currently working on data-driven investigative stories for their respective news outlets, which will soon be featured on the website.
Media Matters for Democracy (MMfD) is a non-profit that works on digital rights advocacy, press freedom, and the rights of freedom of expression and information.