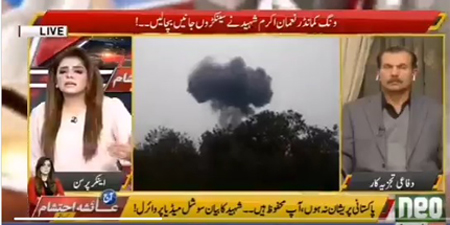 JournalismPakistan.com March 12, 2020


ISLAMABAD—Ayesha Ehtesham, a Neo News TV presenter, committed an embarrassing on-air blunder using the word 'ejaculation' instead of 'ejection' while referring to the Pakistan Airforce (PAF) pilot whose F16 crashed in Islamabad on Wednesday.
Air Marshal (Retd) Shahid Latif was the guest on her show aired on Wednesday evening.
In a video clip shared widely on social media, the presenter says: "Using his discretionary power he did not ejaculate; the time he could have spent ejaculating, he steered the plane towards an unpopulated area."
Wing Commander Nauman Ashraf embraced martyrdom in the crash.