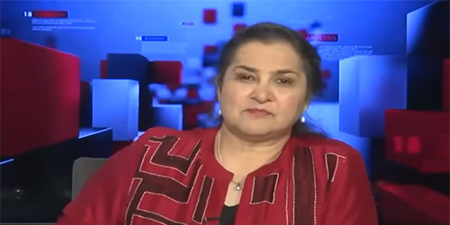 JournalismPakistan.com April 30, 2023


ISLAMABAD—Pakistani anchor Nasim Zehra has served a legal notice to journalist and analyst Moeed Pirzada under Section 8 of the Defamation Ordinance 2002.
The notice was issued following Pirzada's appearance in a YouTube video titled "Dr. Moeed Pirzada unwraps Hamid Mir/Nasim Zehra's disclosures about Gen. Bajwa & Army Reforms!" in which he allegedly made false, malicious, and defamatory statements against Zehra.
Pirzada claimed that Zehra ran a scripted show and acted at the behest of the government and/or other parties, which Zehra's lawyers have called patently false and baseless.
The video has received over 195,000 views since its publication on April 23, 2023. Zehra's lawyers have demanded that Pirzada remove the video, retract his defamatory statements, and apologize publicly within a fortnight to avoid any legal action.
Zehra, who has degrees from Quaid-e-Azam University and The Fletcher School of Law and Diplomacy at Tufts University in the U.S., is a visiting fellow at the Harvard University Asia Centre and was previously a visiting lecturer at the Johns Hopkins University's School of Advanced International Studies (SAIS), Quaid-e-Azam University, Islamabad, and the National University of Sciences and Technology (NUST), Islamabad. She is the author of the book "From Kargil to the Coup: Events that Shook Pakistan" and is the recipient of several awards for her contributions to journalism and academia.
Pirzada, in his comments, referred to a discussion between Zehra and journalist Hamid Mir on 24News HD TV as "rubbish" and "deliberate and scripted."
Zehra had called for a court martial of former army chief Gen (Retd) Qamar Javed Bajwa. Mir had disclosed that Bajwa once told journalists that the Pakistani military did not even have enough diesel to keep its tanks running. Mir also claimed that Bajwa wanted Indian Prime Minister Narendra Modi to visit Pakistan without the knowledge of Imran Khan's government.
Pirzada questioned who had instructed Zehra to call for Bajwa's court martial and alleged that the discussion was planned and scripted to support political figures such as Nawaz Sharif, Mohsin Naqvi, Asif Ali Zardari, and Gen. Asim Munir.
He also pointed out that three channels, including 24News HD TV, belonged to Punjab caretaker Chief Minister Mohsin Naqvi, who has the support of Zardari and Sharif, and the army chief Gen Asim Munir.