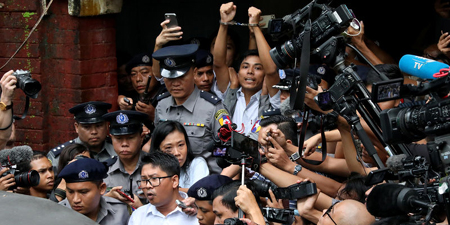 JournalismPakistan.com September 12, 2018


GENEVA: Military and government officials in Myanmar have waged a "political campaign" to quash independent journalism, arresting and prosecuting many through the use of vague and overly broad laws, the UN human rights office said on Tuesday.
Its report examined five cases, including that of Reuters journalists Wa Lone and Kyaw Soe, found guilty last week of breaching the law on state secrets and sentenced to seven years in prison after investigating a massacre of 10 Rohingya men.
The UN report called it a "particularly outrageous and high-profile example of judicial harassment against the media in Myanmar" and illustrative of how arrests and prosecutions are conducted "in violation of the right to freedom of expression".
Myanmar has said the court that convicted the two Reuters journalists under the colonial-era Official Secrets Act was independent and followed due process, after international calls for the pair to be released.
Ministry of Information spokesman Myint Kyaw declined to comment on the report when reached by Reuters on Tuesday. Yangon officials have rejected claims that press freedom was shrinking under the administration of Nobel laureate Aung San Suu Kui.
"The report refers to the 'instrumentalization of the law and of the courts by the Government and the military in what constitutes a political campaign against independent journalism'," UN human rights spokeswoman Ravina Shamdasani told a Geneva briefing.
Laws on telecommunications, official secrets and import-export acts have been invoked against journalists, she said.
The group Reporters Without Borders estimates that around 20 journalists were prosecuted last year in Myanmar, Shamdasani said.
The UN report entitled "The Invisible Boundary – Criminal prosecutions of journalism in Myanmar", which examined freedom of the press since Suu Kyi's National League for Democracy (NLD) came to power in 2015, said it had become "impossible for journalists do to their job without fear or favor". - Agencies