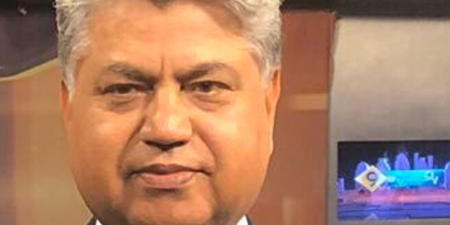 JournalismPakistan.com March 27, 2019


ISLAMABAD – Murtaza Solangi, one of five journalists named by Federal Investigation Agency (FIA) for using murdered journalist Jamal Khashoggi's image as their Twitter profile picture during Saudi Crown Prince's Pakistan visit, heaped shame on the PTI government on Wednesday.
He took to Twitter to vent his anger over the FIA decision to initiate an inquiry against him, and others including a few groups, and an activist.
"So the shameful government of @ImranKhanPTI has a problem with putting the picture of slain journalist #JamalKhashoggi on your twitter profile and considers it against the law? Come arrest me, you shameless creatures."
Solangi, a former head of Radio Pakistan, pointed out in another tweet that this FIA action was not only against the constitutionally guaranteed freedom of expression but also in violation of the international covenant signed by Pakistan. "This is nothing but senseless harassment of independent journalists."
The Federal Investigation Agency (FIA) is initiating inquiries against four other journalists - Matiullah Jan, Umar Cheema, Azaz Syed, and Ammar Masood, and activist Ahmed Waqass Goraya.
According to the FIA, all of them used Khashoggi's image as their profile photo during last month's visit to Pakistan of Saudi Crown Prince Muhammad bin Salman.
Meanwhile, the Committee to Protect Journalists Asia asked the FIA not to harass journalists.
"#Pakistan's FIA should stop harassing journalists over social media posts. Is there any wonder why journalists wave the flag of #JamalKhashoggi? He was one of them, murdered for his work," CPJ Asia tweeted.
Also facing inquiries are Majlis-e-Wahadat-e-Muslimeen (MWM), Imamia Students Organization (ISO), Hizb-ul-Tahrir Pak, and Tameer-e-Watan Pary, Islamabad. They are accused of being "most active on social media" against the Saudi prince.