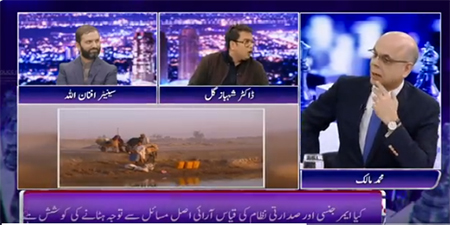 JournalismPakistan.com January 21, 2022


ISLAMABAD-Mohammad Malick on Friday tweeted thanks to all those who supported him following his verbal clash with Shahbaz Gill, Assistant to Prime Minister of Pakistan on Political Communication, in his show Breaking Point.
In the shouting match on live TV, both Malick and Gill accuse each other of being unfair. Gill appeared unhappy that the Hum News presenter questioned his PhD degree and the credentials of Universiti Malaya. On the other hand, Malick didn't like using "nonsense" for him. Gill repeatedly told Malick to give up journalism.
"A big thanks to all friends who condemned rowdiness of special assistant, but it's not an issue that warrants such intense discussion. Simply not worth your time or mine, so let's move on to more serious national issues that merit attention. Ive already put it behind me."
However, on his Twitter account, Malick was criticized for questioning Gill's degree or terming the institution from where he got it as controversial. Others thought that "nonsense" is as severe as "barking dogs", former Senator Pervez Rashid used in a leaked audio call with Maryam Nawaz, the daughter of former Prime Minister Nawaz Sharif.
As the tiff continued, Gill reminded Malick when he in 2020 talked about grabbing Premier Imran Khan by the neck at a press conference on the pandemic in the Prime Minister House. Then he defended the Malaysian university from where he got his degree and taunted that Malick is not offended by the word "barking dogs."
Another Twitter user reminded Malick that former prime ministers of Malaysia – Mahatir Mohammad and Abdulah Ahmad Badawai – were graduates of the Malaysian university.
Journalist Khawar Ghumman wondered how one should react when told his alma mater was dubious.