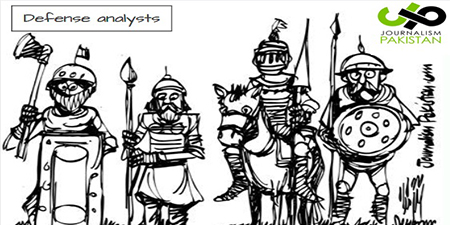 JournalismPakistan.com April 29, 2023


ISLAMABAD—Well-known 92 News anchor Moeed Pirzada has slammed the "so-called" television defense analyst for their clichéd commentary.
He pointed out on Twitter that Saturday's passing out parade at the Pakistan Military Academy, reviewed by Army Chief Gen. Asim Munir was a smart and disciplined event, but the analysts' commentary was unfortunate. He added that it was a disservice to the military chief, the army, and Pakistan.
Pirzada said that the free use of clichés in the context of Kashmir, enemies of the state, and terrorism had lost value and sounded childish. They never talk about national security or strategic challenges but make only political comments. "They are only a burden the establishment is carrying."
He suggested that the establishment needed new ideas to engage and connect with a suspicious critical public opinion.