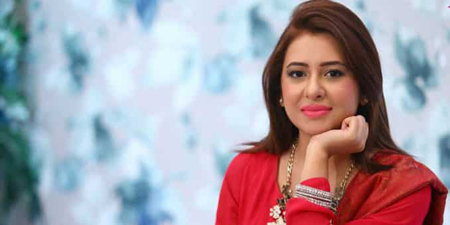 JournalismPakistan.com May 01, 2018


ISLAMABAD - Some journalists, especially women, have condemned the PML-N leaders for using inappropriate language against the women leaders and workers of Pakistan Tehreek-e-Insaf attending the Minar-e-Pakistan gathering.
The statement of Punjab Law Minister Rana Sanaullah, Federal Minister of State for Power Abid Sher Ali and Minister of State for Interior Regions Talal Chaudhry have used indecent language about PTI's women members.
Rabia Anum (pictured), the host of talk show Lakin on Geo TV, tweeted to announce a boycott of "Abid Sher Ali, Rana Sanaullah and all such misogynist creeps if they don't publicly apologise. Enough is enough." She added that "all female anchors/journos should boycott them."
Social activist Marvi Sarmad backed her. "Way to go Rabia. Women and sensible men need to revolt against misogyny. If not now, when? If not us, who?"
However, Reham Khan, the former wife of PTI chief Imran Khan, maintained the party was reaping what it had sowed. "The way PTI designed & launched a paid campaign for a character assassination of me & my children for years, they really have lost all moral ground to protest against others. You shall reap what you sow. Other parties should NOT go down same route."
A hashtag #auratkoizzatdo was also started.
Senior journalist Imtiaz Gul asked: "Challenge for both Sharifs and daughter Mariam.they believe in dignity and resprct for women?"
Columnist Zahid Hussain also termed the comments of Abid Sher Ali "pathetic" and asked if Maryum Nawaz would condemn them. "So pathetic. Won't you condemn this obnoxious, misogynist comments? @MaryamNSharif"
When Defence Minister Khurram Dastigir Khan tweeted to condemn "disrespectful remarks about women" as "reprehensible, regardless of who utters them", a number of tweeple asked him to name his colleagues.
Nadeem Farooq Paracha, who writes weekly columns for Dawn, castigated Rana Sanaullah in his tweet. "What a gentleman. A pristine, pious hero of all gharelu khawateen of the nation. Sick."
Photo coujrtesy: pakgreeneagles.com