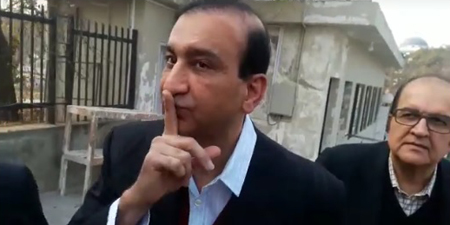 JournalismPakistan.com January 25, 2018


ISLAMABAD – Jang-Geo Group CEO Mir Shakil-ur-Rahman avoided answering some hard questions from journalists as he arrived to appear in a contempt of court hearing at the Supreme Court of Pakistan Wednesday.
In a video clip shared on social media, a journalist asks Rahman: "How does it feel coming to the court?"
"Can't speak, can't talk," the CEO responds, putting his index finger to his lips.
"Please tell us about the foreign funding," asks another journalist, referring to allegations the media group receives money from abroad.
Some of the other questions tossed at Rahman were:
"How much did you sell your integrity for?"
"How much did you sell Pakistan to India for?"
"You had said journalism is business, so how much do you charge for running news?"
"Is it true that yours is a dirty business?"
Rahman does not utter a word, seems somewhat embarrassed, and looks the other way.