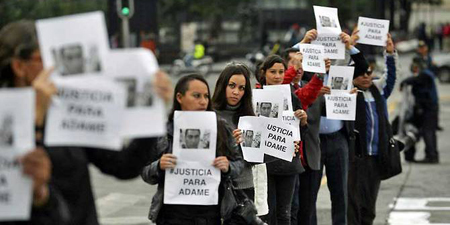 JournalismPakistan.com June 28, 2017


MORELIA, Mexico - Mexican journalists protested Wednesday after a colleague's charred body was found - the sixth murder of a reporter this year in one of the world's most dangerous countries for the media.
Colleagues of slain journalist Salvador Adame painted the words "SOS Press" in giant letters on the ground in Michoacan - the western state where he was abducted and killed - as well as the capital Mexico City and six other states around the country.
"The idea is to raise awareness about the vulnerable situation we all find ourselves in - photographers, camera operators, editors, writers - all journalists," said Enrique Castro, who organized the protest in the Michoacan state capital, Morelia.
"In Mexico, you never know when someone will come and kill you for whatever reason - whether because of your work, as in our case, or because of random crime or a personal vendetta."
Some 50 journalists protested in front of the seat of government in Morelia. Dozens turned out in Mexico City's central square, the Zocalo.
They silently held up photos of Adame, 44, who was the head of regional TV station Canal 6.
"The problem is there are never arrests, there are never convictions. They just keep killing us and attacking us," freelance photographer Victor Galindo told AFP in the capital.
Adame was surrounded by gunmen and kidnapped on May 18 in the town of Nueva Italia. Authorities announced Monday they had found his body dumped along a local road.
The Michoacan state prosecutor said the likely motive was a "personal" dispute. But that has drawn condemnation from Adame's family and colleagues, who are urging police to examine his investigative journalism as a possible motive.
Adame was kidnapped a day after President Enrique Pena Nieto had vowed to strengthen protections for journalists and prosecute those who attack them.
Violence against journalists has surged since 2006, the year the Mexican government sent the army to fight the country's powerful drug cartels.
Since then, at least 100 journalists have been killed and more than 20 have disappeared. More than 90 percent of the cases remain unsolved.
The violence is part of a wave of bloodshed in Mexico over the same period that has left more than 200,000 people dead or missing. - AFP