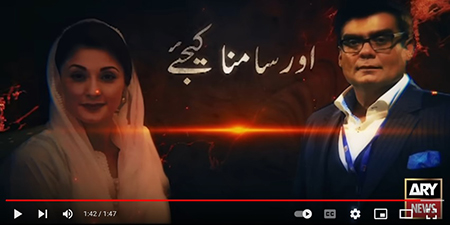 JournalismPakistan.com June 18, 2022


ISLAMABAD—In a testy exchange with an ARY News reporter, PMLN leader Maryam Nawaz alleged the channel's owner, Salman Iqbal, was involved in corrupt practices and benefited from the government of former Prime Minister Imran Khan.
Maryam was disconcerted that ARY News was airing a past comment of hers when PMLN was not in power. She had said that an increase in fuel prices meant the prime minister was corrupt.
Then she harshly criticized Imran Khan, alleging he had taken money from the property magnate Malik Riaz. "Imran Khan was the thief, and we are facing these difficulties because of him."
However, the ARY reporter cut in and questioned her allegations against Salman Iqbal. The reporter offered her to come to any of the ARY talk shows. This offer angered her further.
"Why I need a talk show? Here I am standing before the whole nation and saying this. Go and ask FBR if your owner, Salman Iqbal, has not stolen 12 billion rupees in taxes? And he has taken stay on it. Did he not take rights for cricket matches from Imran Khan without bidding? Did he not have share in housing societies? And is he not a smuggler of gold? Is he not a liar? Is he not part of the conspiracy to spread anarchy in Pakistan?"
After this, she did not allow the ARY reporter to ask a counter-question.
Earlier in one of her pressers, Maryam ordered the removal of the ARY mic.
In response, ARY came up with a promo and asked the PMLN leader when she was in the opposition her every political activity was covered and shown on the channel. The channel challenged the PMLN leader to choose any talk show on ARY and hold a presser in any press club, where Salman Iqbal would respond to her allegations live.
The channel told her to face Salman Iqbal or stop the baseless allegations.