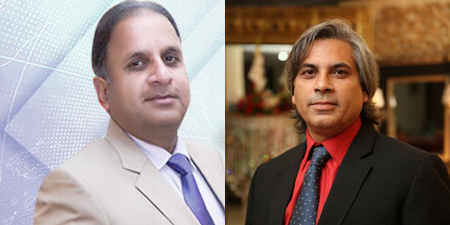 JournalismPakistan.com June 22, 2017


ISLAMABAD - There seems to be no let-up in the bitter tweeting match between Rauf Klasra (pictured, left) and Mubasher Zaidi (right) over allegations of corruption.
As Klasra decided to go to court, Zaidi is also not backing off. He tweeted and retweeted a 2010 story in The News on "out of turn plots" for journalists. The second name on the list of journalists getting out of turn plots in G-14/2, according to the story, is Muhammad Rauf Klasra.
While talking about legal notice from Klasra, Zaidi tweeted: "I will also talk about you plot transferred from G-13 to I-8 getting a favor from Gillani. Please include that in the notice as well."
He added he was happy to face Klasra in the court. "I am happy that he's taking us to the court. I will prove how corrupt he is."
Klasra was quick to reply, saying he would give the I-8 plot to Zaidi if it was proven to be in his name. "I ll give plot to MZ if true someone making u fool my friend by feeding u wrong info. Now pls dont delete it as u deleted 2 tweets earlier."
In an earlier tweet, Klasra said he has all evidences to "prove my friend--MZ-- a habitual liar in court of law. I wont let my admirers down..! Inshallah."
Reacting to the sharing of The News story, Klasra said: "My friends @TheNews, lived up to reputation of faking stories & twisting them. No word "out of turn" in whole story, but makes it to healines."
Meanwhile, Klasra also complained about tweets of Fauzia Yazdani Butt, a Senior Gender Advisor at UNDP Pakistan. "Moment of shame for @UNDP Pakistan whose "advisor" @yazdanifauzia abusing @Twitter. Can she b put on trial under cybercrimes laws?Just asking."
He attached the picture of Yazdani's tweet in which she is alleging that Klasra's wife was a ghost employee of the Literacy Commission and got a flat. Klasra also announced to take her to court. "Dear @yazdanifauzia you made wild allegation my wife was "ghost employee" u too being put on trial to come and pove it."
Images: Rauf Klasra (arydigitalnetwork.tv), Mubasher Zaidi (mediaethics.pk)