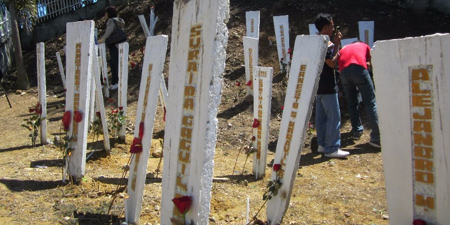 JournalismPakistan.com November 23, 2017


The International Federation of Journalists (IFJ) joins its affiliate the National Union of Journalists of the Philippines (NUJP) in marking the eighth anniversary of the Ampatuan Massacre.
The IFJ and NUJP demand action from the Philippines government and President Duterte to ensure prosecutions are made and justice is delivered.
On November 23, 2009, 58 people, including 32 journalists, were brutally murdered in Sitio Masalay, Ampatuan, in Mindanao in the southern Philippines. Most of the group was traveling to Sharrif Aguak to file candidacy papers for the upcoming national elections. The convoy was stopped at a roadside checkpoint near Ampatuan town by more than 100 armed men. The convoy was then diverted on a side road to a hilltop outside Sitio Masalay, where over the course of an hour they were shot. The massacre is the single deadliest attack on media workers.
While the Ampatuan Massacre received global condemnation, of the 198 suspects only 115 have been arrested and 112 arraigned. After eight years not a single person has been prosecuted. Four witnesses have died in questionable circumstances, and only 102 suspects remain in police custody.
On Sunday, November 19, the IFJ joined the NUJP in the eighth commemoration of the Ampatuan Massacre, with a memorial at the massacre site. The memorial was an opportunity to meet with the victims' families and local journalists, remembering their loved ones and colleagues.
NUJP acting chair, Jo Clemente, said: "And so the killings continue, abetted by the same system of governance that made the Ampatuan Massacre inevitable. Today, in fact, the danger has, if anything, worsened, spurred by a president who not only has justified media killings as fitting retribution for supposed corruption - a blanket accusation not backed by any proof - and openly incites the harassment of media outfits and individual journalists he deems objectionable. But unfortunately for this and any other administration that would seek to suppress the independent Philippine media, we survived Ferdinand Marcos' attempt to control the free flow of information and know we will do so again should any regime try a repeat."
"We will not be silenced or coerced into surrendering our duty to serve the people's right to know," said NUJP.
IFJ Asia Pacific Director Program & Development Jane Worthington joined the NUJP memorial and said: "There is renewed hope of convictions as early as next year. This cannot come soon enough. The Philippines remains the world's weeping wound for impunity for crimes against journalists and it remains a death zone for media. Under martial law, Mindanao has become even more deadly for those covering the story. It is in the interest of the future of democracy in the Philippines that the safety of the media is given the priority it has long deserved. The children of those lost are now young adults - they deserve to see justice now."- IFJ media release