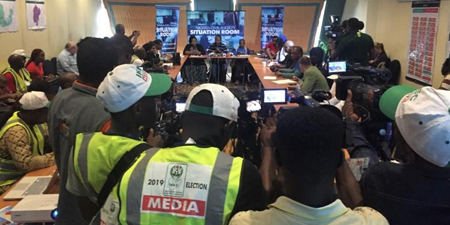 JournalismPakistan.com March 13, 2019


ABUJA, Nigeria - Nigerian authorities should investigate and hold accountable those responsible for the detention, harassment, and assault of journalists nationwide during the March 9 gubernatorial and state assembly elections, the Committee to Protect Journalists said on Wednesday.
Journalists covering the elections told CPJ they were detained and harassed by security services or other armed individuals, denied access to report on polling stations, forced to delete photographs, and assaulted.
"The freedom and fairness of any election requires that journalists are permitted to work unimpeded and without fear," said Angela Quintal, CPJ Africa program coordinator, in New York. "Nigeria must act to ensure journalists can work safely during elections, and the first step is to hold responsible those who attacked or impeded the media during the recent polls."
Nonso Isiguzo, a news editor with the privately owned Nigeria Info radio station, told CPJ that he was traveling on election day between polling stations to report on elections in the Ahoada West local government area in Rivers state. Armed men, some wearing camouflage uniforms, stopped their Nigeria Info-branded car, told Isiguzo and his driver, Sunday Isiitu, to get out, and took their car keys. Shortly afterward, a second car carrying five others whom Isiguzo identified as journalists with accredited press tags was also stopped at the same point on the road, he said.
"I said, 'I'm a journalist. I'm just here to monitor the election'," Isiguzo told CPJ. But the armed men told Isiguzo, without elaborating, that their "boss" was being held by the military and the journalists would only be released once the boss was free.
The men released Isiguzo, Isiitu, and the other journalists after holding them on the side of the road for two hours, after which Isiguzo did not continue reporting in the area, he told CPJ.
CPJ could not immediately determine the identities of the five people from the second car.
On March 10, Nigeria's Independent National Electoral Commission suspended all election processes in Rivers due to "widespread disruption," including violence and hostage-taking, according to a statement posted on the official election administration body's verified Twitter account.
Also on election day, Segun Adewale, a local politician known as "Aeroland" and a member of the People's Democratic Party, hit and shoved BBC reporter Ajoke Ulohotse in Nigeria's southwestern Lagos-Abeokuta area, according to a report by BBC Pidgin, which included video of the incident, and a BBC statement emailed to CPJ. – A CPJ News Alert