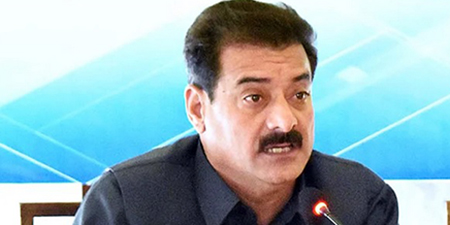 JournalismPakistan.com October 10, 2023


ISLAMABAD—The appreciation for DawnNews TV for not airing an interview of missing Pakistan Tehreek-e-Insaaf leader Sadaqat Ali Abbasi (pictured) turned into condemnations and sadness after the channel aired it on Monday night.
Senior journalist Mazhar Abbas was saddened that Dawn resisted for a few days but then gave in. "Gone are the days of Independent TV. DAWN resisted the pressure for few days but finally, interview of PTI leader Sadaqat Abbasi on air at the moment."
Arifa Noor, who hosts a show on DawnNews TV and served as the resident editor of Dawn in Islamabad, said in her post on X: "Sahafat ka janaza hai, zara dhoom say niklay (the funeral of journalism should come out with pomp)."
Zarrar Khuhro, one of the hosts of the talk show Zara Hut Kay on DawnNews, said: "We tried and we failed. Jitni gaalian daini hain dai dain."
Journalist Mubashir Zaidi, who backed the decision of not airing the interview and said he was proud of his 23 years long association with Dawn, simply wrote: "Aaj mujhay bohat dukh huwa hai (I am very sad today)."
Program host Munizae Jehangir maintained that with the interview of missing PTI leaders Usman Dar and Abbssi, journalism in Pakistan has hit a new low. "Waqiyeh after #UsmanDar & #SadaqatAbbasi interview it's clear that journalism has hit a new low! Interviewing victims of enforced disappearances after they are produced by their abductors to give an interview under duress is unethical & aiding & abetting a crime."
Lawyer Abdul Moiz Jaferi, commenting on the interview, said both the host and the guest were lying.
Cyril Amedia, a former Dawn employee, maintained TV journalism is dead as it decided to side with the powers to be. "TV is dead because TV is in bed with the regime..."
PTI leader Hammad Azhar, who had earlier backed the decision of DawnNews of not airing the interview, said he had deleted that post on X.
Shiffa Z Yousafzai, another program host, thought that the interview may have been aired after the Dawn editorial team failed to resist the pressure. "The interviewee was missing for days before turning up at a news channel for this interview. After this interview the interviewee returned home and a video surfaced in which he could be seen crying in a devastated condition meeting his family. The channel refused airing this very interview as the editorial felt the interview may have been given under duress and against the free will. So now that it is being aired would it not mean the channel and entire editorial team may have been pressured into airing this despite them not wanting to? Thats the sad state of affairs of politics and journalism in the country of control freaks."
Photo credit: Geo.tv