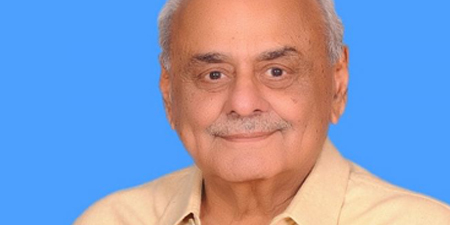 JournalismPakistan.com March 31, 2019


ISLAMABAD - Journalists began tweeting about the induction of Brig. (Retd) Ijaz Shah, an MNA from NA-118 as the minister for parliamentary affairs in the cabinet of Prime Minister Imran Khan.
Azaz Syed of Geo News said the appointment made no sense. "A joke: former spy chief Brig(r) Ijaz Shah has been appointed as parliamentary affairs http://minister. In past Shah had served in ISI, Punjab Home Dept and headed IB during Musharraf's regime. What is the wisdom behind his appointment as parliamentary affairs? No relevance."
However, for veteran journalist Imtiaz Alam the appointment made complete sense, maintaining that he was the right person for keeping the PTI government intact. "Strange. You don't understand it. He is the right person for the right job to keep the herd of turncoats and weathercock on the right side of divide."
However, some tweeple told the journalists that the retired brigadier is an elected legislator from NA-118, with every possibility of becoming a cabinet minister.
Earlier, former head of Radio Pakistan, Murtaza Solangi harshly criticized the decision to give Shah the portfolio of parliamentary affairs. "Brigadier Ijaz Shah, named in the dying deed of Shaheed Mohtarma Benazir Bhutto as one of the accomplices in her murder, the person who kept and handed over Omar Ahmed Sheikh (killer of Daniel Pearl), is being installed as federal minister. RIP National Action Plan!."
But, former editor of Dawn, Abbas Nasir reminded Solangi that Benazir Bhutto also named Chaudhry Pervaiz Elahi in her letter, but the PPP government made the current speaker Punjab Assembly deputy prime minister when no such post exists in Pakistan's constitution.
"Murtaza these things happen in politics, don't they. BB also named Ch Pervez Elahi who was made deputy PM (a post neither in the constitution nor in the PPP manifesto) when Mr. Zardari was President."
Khaleeq Kiani, a journalist with Dawn seemed to back Imtiaz Alam's assertion. "Who's more qualified to be minister for parliamentary affairs than a person who played key role in creating three parliaments n wud be expected to ensure stability to 4th."