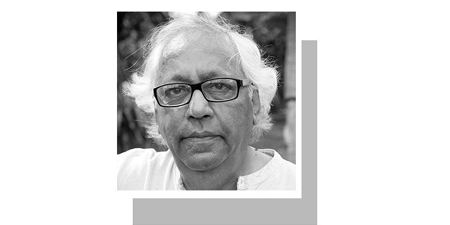 JournalismPakistan.com December 17, 2020


ISLAMABAD—Condolences poured in as the death of Dawn columnist Irfan Hussain was announced by his son on Twitter on Wednesday.
Shakir Hussain in his tweet announced: "My father and dear friend, Irfan Husain, passed away in Dorset, England. I am grateful that he slipped away gently and that I was able to be with him. See you on the other side, Abba."
Nadeem Farooq Paracha said he has been reading Irfan's columns in Dawn over the last three decades. "So sorry Shakir. A great loss. Such a fine man. I had been a fan of his columns for over thirty years. And he was always humble and cheerful whenever I got the chance to meet him. May his soul rest in peace."
Dawn said the columnist died in Dorset, England. According to the newspaper, Hussain in a column in August year said that he had been diagnosed with a rare type of cancer nearly three years ago.
Born in Amritsar, India in 1944, Irfan's family migrated to Pakistan in 1947. He was educated in Karachi, Paris and Ankara, and joined the civil service in 1967 after obtaining a master's degree in economics. He authored a book "Fatal Faultlines: Pakistan, Islam and the West" in 2012.
Federal Minister for Education Shafqat Mehmood expressed his condolences. "Deeply grieved to learn of Irfan Hussain's sad passing away. Knew him since college days in Lahore. Widely read columnist of Dawn and a gentleman of high integrity. Always enjoyed his company and writings. May his soul RIP. @irfan_husain"
Journalist Khurrum Hussain also pointed out he grew up reading Irfan's columns. "So many of us grew up reading Irfan saab's columns that his loss hits very close to the heart. Strength and prayers for you."
Television presenter Amber Rahim Shamsi termed it a loss for journalism. "Been reading Irfan sb's columns for years so it almost felt like I knew him. May you all find peace and the space to grieve."
Talat Aslam of The News remembered his days spent with Irfan Hussain. "Oh that's terrible news. So sorry to hear that Shakir. Have fond memories of the time spent with him. My heartfelt condolences. May he rest in peace."