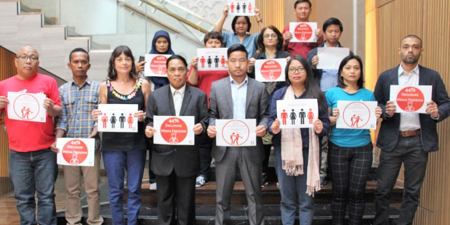 JournalismPakistan.com November 02, 2018


In Southeast Asia, one in two journalists has felt insecure because of their work, in the past year.
Today, on International Day to End Impunity for Crimes Against Journalists the International Federation of Journalists (IFJ) and the Southeast Asia Journalist Unions (SEAJU) launch the preliminary findings into the IFJ-SEAJU survey on journalist safety & working conditions and call on governments to take immediate action to guarantee safety for the media.
At the IFJ-SEAJU meeting in Bangkok, Thailand, findings from a survey of almost 1,000 journalists in South East Asia revealed that the single biggest threat to the safety and security of journalists at work are working conditions.
The IFJ said: "The systematic failure of governments in South East Asia to act to ensure the safety and security of the media is evident from the survey findings. This research is an opportunity for action to tackle impunity and guarantee the safety of the media."
The preliminary survey findings showed that 44% of journalists in South East Asia feel that media freedom declined in the past 12 months, and 55% said that the rate of impunity in their country was a major problem or epidemic. For one in two journalists, their government's response to impunity was deemed worsening or extremely bad.
There are bright spots in the region, such as in Timor Leste where despite legal proceedings, not a single journalist has been jailed in connection with their work. In Malaysia, the change of government in early 2018 has offered an opportunity for change and for media freedom to flourish. However, there are still challenges, such as in the Philippines which is the third deadliest country for journalists in the world. New threats and challenges in the Philippines such as online campaigns and troll armies mean that journalists are feeling unsafe online and offline.
SEAJU said: "The findings of the survey unequivocally show that impunity for assaults on journalists and the repression of press freedom and free expression has been steadily worsening throughout the region. This means not only do we journalists need to further strengthen our ranks and cooperate across borders to protect ourselves and improve our welfare, but we will also need to undertake more direct engagements with our audiences, the people we serve and get them firmly on our side."
The full survey findings will be launched in a report on December 15, 2018. - IFJ media release/Photo: Ujjwal Acharya/IFJ