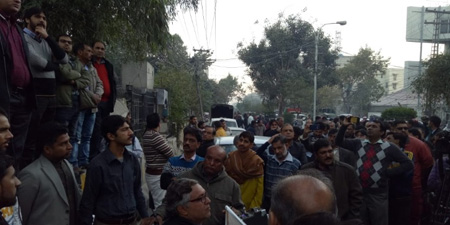 JournalismPakistan.com December 18, 2018


LAHORE – Following an impactful protest and locking up of Jang offices over hundreds of job cuts, the management of the media group on Monday sought two days to consider the demands of protesting journalists.
Azam Chaudhry, the convener of a Joint Action Committee of journalists that includes all groups and unions, said they were demanding immediate reinstatement of workers laid off, a stop to further sackings, and closure of Jang publications.
The next round of talks is scheduled for Thursday.
Earlier, addressing the protesters, Chaudhry said that Jang Group which is the biggest media house in Pakistan had committed the biggest economic murder of workers.
The group last week dismissed hundreds of employees and also shut down several of its publications including Waqt, Inqilab, Awam, Daily News and Jang Peshawar and Faisalabad.
Chaudhry pointed out that the journalists always stood by Jang Group whenever it fell on hard times, but it was a pity it reciprocated by rendering hundreds of employees jobless.
He also slammed the government's role in this crisis as shameful. He saw the closure of smaller newspapers as a conspiracy.
Chaudhry said that the PTI government had promised jobs for the people, but had done precisely the opposite.
He announced setting up of a fund under the Lahore Press Club to support jobless journalists.
Earlier on Monday, the protesting journalists walked from the press club to the Jang offices where they staged a sit-in and locked up the premises. They blocked traffic for some time and burnt tires.
Several members of the Joint Action Committee made speeches, among them Abdul Majeed Sajid, Muhammad Shahbaz Mian, Arshad Ansari, Rana Azeem, Shahzad Hussain Butt, Naeem Hanif, Ziaullah Khan Niazi, Rehman Bhutta, Khawaja Naseer, Imtiaz Alam, Shafiq Awan, and Khawaja Farrukh Saeed.