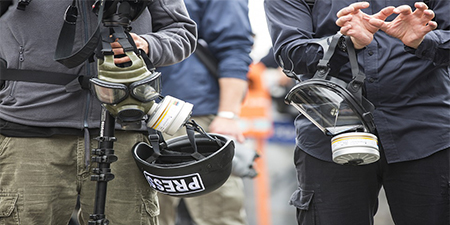 JournalismPakistan.com October 31, 2023


ISLAMABAD—The Committee to Protect Journalists (CPJ) has termed the Israel-Hamas war as the deadliest for journalists since it started documenting fatalities in 1992—from October 7 to 30, at least 31 journalists were among more than 9,000 killed on both sides since the war began.
In a statement, CPJ said this deadly toll is coupled with harassment, detentions and other reporting obstructions in areas that include the Palestinian territories of Gaza and the West Bank, and in Israel.
Of the 31 journalists killed, 26 are Palestinians, four are Israeli, and one is Lebanese. Additionally, eight journalists have been injured and nine journalists are reported missing or detained.
"CPJ emphasizes that journalists are civilians doing important work during times of crisis and must not be targeted by warring parties," said Sherif Mansour, CPJ's Middle East and North Africa program coordinator.
"Journalists across the region are making great sacrifices to cover this heart-breaking conflict. Those in Gaza, in particular, have paid, and continue to pay, an unprecedented toll and face exponential threats. Many have lost colleagues, families, and media facilities and have fled seeking safety when there is no safe haven or exit."