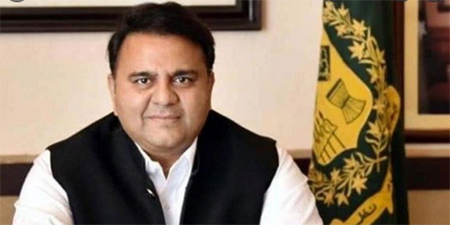 JournalismPakistan.com November 20, 2021


ISLAMABAD—Information Minister Fawad Chaudhry Saturday ordered the FIA and the Economic Affairs Division to probe allegations of FAFEN funding an anti-government Pakistan Federal Union of Journalists (PFUJ) convention.
The minister (pictured) tweeted that he had ordered the probe after Sarwar Bari, a former head of FAFEN (Free and Fair Election Network), made serious allegations against the network.
PMLN leader Maryam Nawaz addressed the PFUJ convention held in Islamabad this week. FAFEN has aggressively supported the union in holding conventions and seminars in major cities. Those in the know say that it is even helping the union develop its website.
In a press conference in Islamabad, Bari alleged data fudging by FAFEN during the 2013 General Elections to prepare fake reports. Bari, expelled from FAFEN a few days ago, has supported the government's plan to hold the next general elections with electronic voting machines (EVMs).
Earlier this week, journalist Shahryar Khan, a former president of the National Press Club, in a vlog, criticized the holding of the so-called PFUJ Workers Convention in one of Islamabad's top hotels. He said FAFEN and PFUJ were cashing in on the difficulties of working journalists.
FAFEN was established in 2006 as a coalition of 30 domestic non-governmental organizations to observe general elections and mobilize voters.
In a press release, FAFEN termed Sarwar Bari's allegations an effort "to damage the integrity, credibility and unity of Pakistan's largest non-partisan network of civil society organizations."
It said Bari and his organization PATTAN had been expelled from the network a few days back. While welcoming the probe ordered by the minister, FAFEN said it would use all legal options to safeguard the network from such malicious attacks.