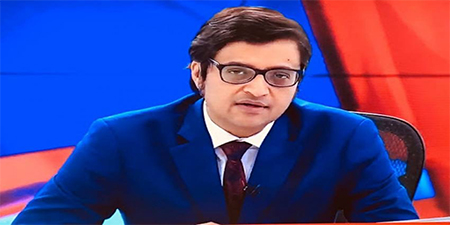 JournalismPakistan.com September 20, 2021


NEW DELHI —Controversial Indian TV anchor Arnab Goswami has again spread fake news about Pakistan's intelligence officers in Kabul.

During "The Debate" TV show, which aired September 15 on Republic World TV, Goswami invited Abdul Samad Yaqoob to represent Pakistan in discussing the current Afghanistan situation. "According to my sources, Pakistan military officers are currently staying on the fifth floor of the Serena Hotel in Kabul," the Indian anchor claimed.

"I am asking you to please check the fifth floor of the Serena Hotel in Kabul. You may find yourself that how many Pakistani army officers are staying there right now," Goswami said, challenging that "I can even tell you what they [Pakistani military officers] ordered for dinner. So don't question my intelligence sources."
A day later, the Pakistani analyst was back on Goswami's show and countered the anchor's claim by stating: "… Serena Hotel in Kabul has no third, fourth, or fifth floors. It has only two floors."
After the TV clip went viral on social media, people from both countries started criticizing Goswami for making baseless and fabricated claims, with the hashtags #ArnabGoswami and #ISIon5thFloor attracting a large number of tweets.
According to Geo News, an employee of Serena Hotel has also confirmed that there are only two floors. The official Facebook page of Serena Hotel also mentioned the same.