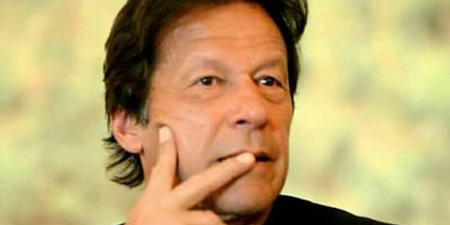 JournalismPakistan.com January 09, 2018


KARACHI - Annoyed by the "gutter media campaign" against his plan to get married for a third time, Pakistan's flamboyant cricketer-turned-politician Imran Khan asked whether he had "sold" state secrets to India or "laundered" the country's wealth to deserve a bad press.
Breaking his silence over reports of his "marriage" to his spiritual guru Bushra Maneka, Pakistan's Opposition leader blamed ousted Prime Minister Nawaz Sharif and owner of a private media house for the "vicious, gutter media campaign" against him in recent days.
In a series of tweets, the 65-year-old former cricket captain said that he was only concerned about "his children and the very conservative family of Bushra begum."
He alleged that the "vicious, gutter media campaign" was being led by NS [Nawaz Sharif] and MSR [Mir Shakil-ur-Rahman], adding that it did not bother him. Shakil-ur-Rahman is the founder of Geo Television Network.
In another tweet, he told "NS & MSR" that their vicious campaign has only strengthened his resolve to fight them.
Attacking Sharif, Imran said: "I have known the Sharifs for 40 years and I know all their sordid personal lives, but I would never stoop to the level of exposing these sordid details."
"For 3 days I have been wondering have I looted a bank; or money laundered bns in nation's wealth; or ordered a model-town-like killing spree; or revealed state secrets to India? I have done none of these but discovered I have committed a bigger crime: wanting to get married," he said.
Sharif was disqualified by the Supreme Court last year in the Panama Papers case. The Sharif family is facing three corruption cases linked to the scandal. - Agencies