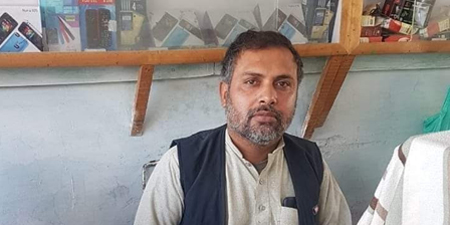 JournalismPakistan.com May 02, 2019


The International Federation of Journalists (IFJ) has called on the Khyber Pakhtunkhwa Police to investigate the brutal murder of journalist Amanullah Gharro of Dera Ismail Khan and determine if the connection was work-related.
IFJ General Secretary Anthony Bellanger said: "This is a tragic and senseless killing on the eve of World Press Freedom Day that brings to light the dangers for journalists working in the toughest parts of Pakistan.
"We call on the provincial police to investigate this brutal murder and determine if the connection was work-related and to refer the matter to appropriate bodies at national level. The frequent attacks against journalists and media workers in Pakistan continues to blight the country."
Amanullah, a senior journalist, was killed by bikers who opened fire on him on April 30. He was in the jurisdiction of University Police Station near Lunda Sharif.
He worked for Janbaz, a local television, and had filed news against non-state actors allegedly involved in terrorism. He also worked as a correspondent for a local newspaper Meezan-e-Adal.
The Pakistan Federal Union of Journalists (PFUJ) has demand the local administration to take early action to arrest the culprits and put them behind bars.
"A number of journalists have been subject to terrorism and lost their lives in the line of duty but the law enforcement agencies had failed to provide justice to the victim families," the PFUJ leadership said.
This is not the first killing of a journalist in the troubled region. Amanullah Gharro was the third journalist to be directly targeted and killed in Khyber Pakhtunkhwa within the last 12 months and the fourth journalist killed in Pakistan in the period May 1 to April 30.
On October 16, journalist Sohail Khan was shot dead after reporting a story on a local drug cartel in the region. He had just left the District Police Office after filing a police-protection application relating to multiple death threats.
On December 3, a second journalist Noor ul Hassan, of Royal TV, was killed when two gunmen on a motorcycle opened fire on a car carrying the journalist. – IFJ media release/Photo: PFUJ