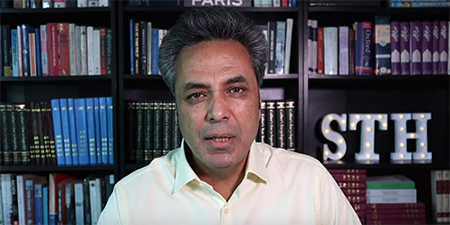 JournalismPakistan.com April 23, 2022 Cherie Conela



ISLAMABAD—Prominent journalist Syed Talat Hussain has vehemently denied all reports that he would accept any position in the new government.
In a video message, he said that he was receiving congratulatory messages from many people who thought he would soon be appointed either the managing director of Pakistan Television, ambassador to the United States, or chairman of the Pakistan Cricket Board.
He clarified that being a journalist, he is committed to journalism and not at all interested in any other position.
"I didn't adopt the journalism profession to use it as a ladder to become the head of a high government institution."
He added that he had faced such offers several times during his career, especially when his name was suggested for the caretaker government setup. "But I regretted joining."
After the overthrow of Imran Khan's PTI government, reports emerged that Shehbaz Sharif was including some journalists in his government. In this regard, Talat Hussain's name began circulating on social media with information that he might soon accept a government post.
Hussain, a vocal critic of the previous PTI government, is among the journalists who faced severe problems during the PTI term. He was taken off air by Geo News, after which he started paying attention to his YouTube channel.