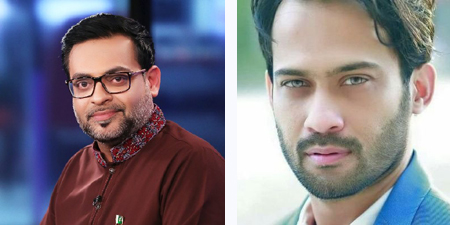 JournalismPakistan.com September 12, 2017


ISLAMABAD – Immigration authorities in Myanmar detained and deported Pakistani journalists Aamir Liaquat and Waqar Zaka last week after they were unable to explain their reason for visiting the country.
Myanmar Times reported Monday the two were sent back on Thai Airways flight TG 303 to Bangkok. Both have since returned to Pakistan.
The paper quoted Immigration Officer U Myint Zaw who questioned them on arrival at Yangon International Airport. "I asked them some basic questions because they came in on tourist visas, not as media organizations.''
The officer pointed out that they had equipment for reporting, such as a camera, tripod, and others but said they were just in Myanmar for a visit.
"I decided to check them carefully because one of them was a famous TV presenter in Pakistan. We got information that they would try to come in using a United Nations visa to report on the Rakhine conflict, but their visa was not what I was informed," the immigration officer said.
According to his Twitter account, he and Waqar Zaka, another TV anchorperson, came to Myanmar with a UN visa to cover atrocities committed against Rohingya Muslims.
The paper said the airport police confirmed the two came in on tourist visas and had no contact person in Myanmar to translate.
"We did everything according to Myanmar immigration law,'' the paper quoted a spokesperson for the airport police force as saying.
Liaquat hosts the program Aisay Nahin Chalay Ga on BOL News while Zaka is also a television host.
Meanwhile, Liaquat in his show aired Monday disclosed details of their unsuccessful trip. He revealed he teamed up with Zaka because he had been to Myanmar before but had entered illegally.
He said he was asked by immigration "Are you a tourist?
"I said I am not a tourist but a journalist."
"Why do you want to enter Myanmar?"
"I told them there were various reports coming out in the world media about what's going on in Myanmar and I want to tell the world the facts."
The officer then "opened my Twitter handle on his cell phone and showed it to me. The tweets show you are here to help Rohingya Muslims, who are terrorists."
"I am not here to help them but to report facts," Liaquat told the officer.
"He then took my passport and told me that I was a former federal minister, that I work for BOL and had done programs on Rohingya Muslims and I was against Aung San Suu Kyi."
Liaquat said on his show they were pushed and shoved into the plane and their passports not given to them. "We were told we would get them back in Bangkok.
On arrival in Bangkok, police detained them and they were questioned and asked to leave the country within 24 hours. Since their return ticket was for September 15, they had to buy new ones and return home.