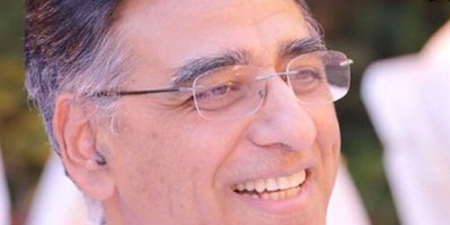 JournalismPakistan.com April 18, 2019


ISLAMABAD - As Finance Minister Asad Umar (pictured) announced his exit from the federal cabinet on Thursday, journalists took to Twitter to comment on the ouster.
Columnist Mosharraf Zaidi saw Asad's exit as a defeat for those who voted for change. "Austerity hawks, anti reform seths, and retired grandpas have won, and Asad Umar has lost. The young core of the PTI has been cheated and lied to. Terrible day for well wishers of Tabdeeli."
Prominent anchor Mooed Pirzada thought the Prime Minister had been weakened. "PM Imran Khan has seriously weakened himself."
Former editor of Dawn, Abbas Nasir was interested in seeing who would replace Asad.
Veteran journalist Imtiaz Alam saw a conspiracy in Asad's ouster. "Paving the way for A technocrat's takeover who suits IMF agenda and a "bloody Liberal" econometrician."
Ansar Abbasi of The News just asked in an Urdu tweet about the force which forced the minister out.
Talat Hussain, formerly of Geo News, maintained the resignation shows the internal crisis in the ruling PTI. He said how could a government steer the country if it cannot keep its house in order.
Shahzeb Khanzada of Geo News decided to take on the Prime Minister. "For 8 years Imran khan presented Asad Umar as the answer to Pakistan's economic woes... in 8 months, Imran khan is not satisfied with his own answer."
Sabir Shakir said ARY News stands vindicated. In a tweet in Urdu, he said ARY's news has been confirmed, adding that Asad Umar did not resign, he was asked to leave the finance ministry. He said the four other ministers named in his news would have to go.
Columnist Umair Javed patted ARY and BOL on the back. "Sources of ARY and BOL are not just credible, they're incredible. (because they are in power)."
Umar Cheema of The News demanded an apology from those who doubted ARY and BOL News. "All those in the govt denied earlier and put on notice to ARY/BOL for breaking this news must apologise."
Khaleeq Kiani, a senior journalist with Dawn said that with Asad's resignation, the first wicket of PTI is down. "#PTI's First Wicket Down".
Analyst Imtiaz Gul thought the outgoing finance minister was held hostage by the bureaucracy. "It was very clear from the word go that @Asad_Umar had become hostage to the DMG and all those technocrats who just won't think out of box , proponents of the status quo. @ImranKhanPTI #pakistan."
Cartoonist Sabir Nazar thought the resignation speaks volume about the incompetence of the ruling party.
Mohammad Malick of Hum News backed Asad's decision to not accept another ministry. "I think Asad Umar acted honourably by declining another ministry cause that would have been a step down. Delayed decisions on few fronts hastened his exit unfortunately."
Photo: Twitter (@Asad_Umar)