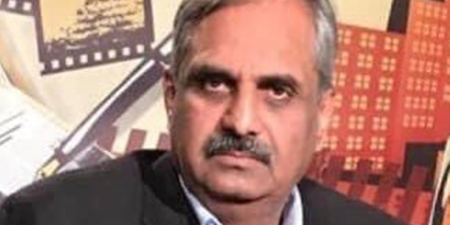 JournalismPakistan.com August 10, 2022


ISLAMABAD—Senior journalist, Mohsin Raza Khan, has responded to CEO ARY News Salman Iqbal, saying that "by replacing a professional head of news Owais Tohid with a 'non-professional,' the chief executive himself had made the channel 'non-professional.'"
In a tweet, Khan questioned who allowed Ammad Yousaf, ARY's news head, only to run news about one party in an apparent reference to PTI. He stated they must have orchestrated the 'drama' surrounding PTI leader Shahbaz Gill's arrest.
According to him, it was the 'non-professional' style of the TV channel because ARY UK found itself in 13 defamation suits, which led to the deportation of ARY UK's president.
In a tweet, the CEO of ARY News, Salman Iqbal, stated: "We are journalists! Remember today it's @ARYNEWSOFFICIAL tom it can be other channels. If we don't stand up to this than we should be silent forever! We have given everyone a platform to talk. I beg the judiciary and the armed forces of pakistan to take action."
He was expressing his views regarding the arrest of Ammad Yousaf and the filing of FIRs against himself and anchorpersons Arshad Sharif, Khawar Ghumman, and Adeel Raja by Karachi police.
Photo: Twitter (@mohsinrz)