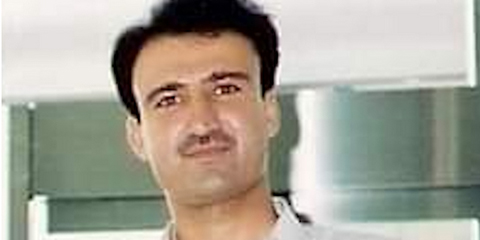 JournalismPakistan.com January 18, 2018 Myra Imran & Imran Naeem Ahmad



This story is one of 10 case studies highlighting the economic condition of slain journalists' families and the displaced reporters. Journalist Myra Imran traveled to remote and high-risk districts in Khyber Pakhtunkhwa and FATA to interview family members, their relatives, displaced journalists, and office-bearers of press clubs and journalist unions. The stories are part of a field study report Surviving the Story, launched on January 8, 2018, a collaborative initiative of JournalismPakistan.com and Communications Research Strategies (CRS).
Threatened, kidnapped twice, and ordered to leave North Waziristan at one time, journalist and photographer Hayatullah Khan remained undeterred until his brutal murder on June 16, 2006.
Working in one of Pakistan's most dangerous regions, Hayatullah was aware of the risks. He often told his younger brother Ihsan Ahmed: "We have a short life." "Perhaps he knew he would get killed," says Ihsan, who was also a journalist but quit in 2007 because of family pressures and moved to Peshawar.
Hayatullah worked for a string of news organizations, among them The Nation, Daily Times, Urdu newspaper Ausaf, European Press Agency and PBS Frontline.
Days before his kidnapping, there were reports of an Al Qaeda leader Abu Hamza Rabi getting killed. The authorities claimed it was a bomb blast in North Waziristan. Hayatullah was at the scene along with Ihsan. He took pictures and made footage of what were believed to be parts of a missile fired from a US drone.
Later, he dispatched the news that prompted protests in the country over the territorial infringement by US forces. The drone strike also killed a local college student and a seven-year-old schoolboy.
Ihsan says the college students organized a protest over their fellow's killing. Hayatullah was on his way to cover that protest when he got abducted by five men in a car on December 5, 2005.
His kidnapping led to a traumatic period for the family. Who could have done it and where was he? That was the big question. Frantic phone calls and inquiries produced no results.
As protests by journalist unions continued across the country, an anonymous caller on June 11, 2006 provided some cheer and hope to the family. He told them Hayatullah would return home by June 20. "We were all very happy that day," recalls Ihsan.
The phone call was a hoax. Only five days later (June 16, 2006), six months after his kidnapping, another caller informed the family Hayatullah's body was lying in Mir Ali.
The ordeal continued. Hayatullah's widow began receiving threats. One caller warned her of dire consequences if she recorded her statement before an inquiry commission set up to probe her husband's murder. But she went ahead with recording the statement before a judge in Peshawar. On November 17, 2007, she was killed by a bomb planted outside their home. The kids were in an adjacent room and survived, only one sustaining minor injuries.
Ihsan then chose to bid goodbye to the region and migrated to Peshawar. "I got Hayatullah's five children admitted to school there and cut off all contacts with North Waziristan."
The news organizations that Hayatullah worked for provided assistance. "They not only helped but are still in contact with us," says Ihsan. The Nation supported the family for 10 years providing a monthly sum for the children besides a contribution of Rs300,000 at the time of Hayatullah's death.
The European Press Agency chipped in with $6000 and the Committee to Protect Journalists (CPJ) also contributed.
The government promised to give the family a plot of land and the Shaudha (Martyr) Package, a promise that remains unfulfilled. "Prime Minister Shaukat Aziz gave us a cheque for Rs500,000 and we got one from the provincial governor, Ihsan acknowledges.
Ausaf for whom Hayatullah worked for almost 10 years did nothing. "They did not even offer condolences."
Fortunately, Hayatullah's children are in school, thanks largely to the federal information ministry that bears their educational expenses. Another senior journalist, Ihsan does not name, pays for one child's education.
Ihsan remembers his brother as a brave man who had many secrets in his heart. "Back in 2001 no journalist dared to write against the political administration but he did. He got into trouble as a result."
The political agent ordered Hayatullah's expulsion from North Waziristan for three months and asked him to appear before him. He chose not to, saying a journalist never bows before anyone. Later, tribal journalists and those in Peshawar and Islamabad helped organize a jirga with the political agent to resolve thematter. Hayatullah returned to the region and resumed reporting.
In 2004 the Taliban kidnapped him as they suspected he worked for the ISI and CIA. But he was set free after only two days.
Ihsan deems it necessary that the unions take action when a journalist gets killed. "They must act as a bridge between the families and the government." He suggests the Pakistan Federal Union of Journalists (PFUJ) set up a fund especially to help families of slain journalists.
Hayatullah is long gone but Ihsan distinctly remembers telling him to be careful with that drone story he did. "He was much more experienced than me, yet I advised him not to mention it was an American drone strike."
He paid the price for reporting the truth.
Related:
Azmat Ali Bangash – The last reporting assignment
Musa Khankhel – Truth silenced
Saleem Tahir - A tragic misfortune