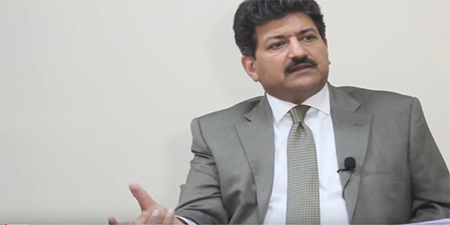 JournalismPakistan.com January 22, 2022


ISLAMABAD—The Kashmir Press Club has paid a heavy price for its bold support for Sajjad Gul, a Srinagar-based young trainee reporter detained by the Indian Army on January 5, prominent journalist Hamid Mir wrote in his column published in The Washington Post.
Titled "Why is the Indian government cracking down so hard on the media in Kashmir?" Mir highlighted that the Modi regime had launched a new effort to assert greater control over the territory, and journalists (and human rights activists) are squarely in the way.
There is a systematic crackdown against dissenting voices in India, but it's especially ferocious in Jammu and Kashmir. "Summoning journalists for police questioning and raiding their houses has become routine," he pointed out.
"Gul is not the only journalist imprisoned in Kashmir," Mir wrote, adding that "One of his colleagues, Aasif Sultan, who won an American award in 2019, was arrested after he wrote a profile of a slain separatist. He was charged for collaborating with terrorists—but the police have failed to produce any evidence against him."
"I've spoken with many journalists in Srinagar and Jammu. Many of them told me that police officials often call them, threatening them with the same arbitrary arrest endured by Sultan."
Female journalists in Kashmir, according to Mir, are also facing the wrath of Indian authorities. "The talented photojournalist Musrat Zahra has won many international awards. Charged in April 2020, she is facing a sentence of up to seven years in prison."
"The latest action against the Kashmir Press Club is a message to all Kashmiri journalists to surrender their independence," Mir emphasized, warning that "the crackdown will only create more tension and more hatred."
"Modi can shut down the Kashmir Press Club, but he cannot lock down the minds of Kashmiris."