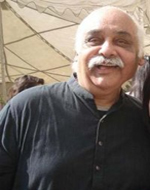 Gul Hameed Bhatti was a top ranked cricket journalist and statistician. He also loved flying and was a commercial pilot with the Pakistan International Airlines between 1968 and 1971.

One can imagine his passion for cricket that he left a thriving career to whet his most jaded appetite.
White-haired, eloquently spoken and with a surgical scar down in the upper neck, Bhatti was the Group Sports Editor of The News in Karachi when he died after a prolonged illness on February 5, 2010.

Eccentric, vibrant with a tinge of arrogance, upright and judicious and at best charming, Bhatti was a keen student of the history of first class cricket in Pakistan.

A thoroughbred journalist, conscientious and principled, it was astonishing that he survived in a volatile, power-sharing and materialistic environment.

Born in 1948, Bhatti developed a passion for cricket when watching the inter-collegiate rivalry between Government College and Islamia College at University Ground during the late 1950s.

He started to compile scorecards for the Board of Control for Cricket in Pakistan (BCCP; now PCB) voluntarily. Bhatti had his first fling with international cricket as a statistician when he worked tirelessly during the Pakistan-Australia Test in 1959-60 at Lahore's Gaddafi Stadium. This was just the start.

Taking journalism as a full time profession, Bhatti was instrumental in setting up The Cricketer Pakistan. Subsequently, he formed the Pakistan Association of Statisticians and Historians and became its first president in 1983.

Based in Lahore and enjoying the extravagant environment, in 1974 Bhatti shifted to Karachi, leaving behind his writing exploits particularly the Lahore cricket scene.

Not read to give in despite paucity of data and facilities, he managed to publish 11 issues of Cricket Facts and Figures Quarterly between April 1986 and January 1989.

A ddeply sensitive man, Bhatti married Razia Bhatti, who nurtured two of Pakistan's leading publications – Herald and Newsline.

After-marriage romance was Bhatti's trademark. He loved Razia. Regrettably, she died in 1996 leaving him in tears.

Bhatti was unable to come out of her aura and lost the zing to live and suffered with ill health. After a battle with throat cancer, he suffered a brain stroke. He died on February 5, 2010 after a second stroke.
Source: The Fluctuating Fortunes; Wikipedia