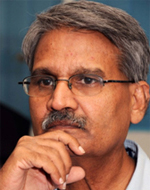 On May 13, 1978, four journalists courted arrest at the offices of Musawaat, among them was Nasir Zaidi, a quiet, unassuming and physically frail individual.

They were driven away in chains for standing up to Dictator Ziaul Haq's high-handedness in dealing with media rights and freedom.

The four were produced before a summary military court headed by a young major and within minutes, he had not only completed his summary proceeding, but sentenced the journalists to imprisonment and flogging.
Within one hour of passing the sentence the four were flogged. Taken to the Kot Lakhpat Jail, each man was stripped to his waist, spreadeagled and lashed five times with a yard of plaited leather thong dipped in oil.

"After the sentence was carried out, I was given the option of being taken out on a stretcher but I rejected it, preferring to show my captors my spirit could not be broken," said Zaidi.

All four were then taken to hospital in chains and manacled to their hospital beds. Zaidi and his three fellow journalists were declared Prisoners of Conscience by Amnesty International.

That was more than 33 years ago and the story has become the stuff of legends. Zaidi and his group stood up for media freedom. They were unyieldingly brave and dedicated and they are remembered and revered to this day.

Zaidi, who has been associated with The News, Islamabad is greatly respected for his bravery which serves as an example for the new generation of media.

His integrity is such he is regularly asked by journalist bodies like the Pakistan Federal Union of Journalists (PFUJ), Rawalpindi-Islamabad Union of Journalists (RIUJ) and the Press Club to conduct their elections. – JournalismPakistan.com