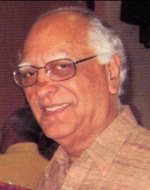 Asaf Jilani was born in Aligarh in 1934. He got his primary education at Jamia Millia Islamia in Delhi where Dr. Zakir Hussain was Shaikh ul Jamia. Dr. Hussain later became the third President of India from 13 May 1967 until his death on 3 May 1969.

As a student, Jilani helped with relief work at the tomb of the Mughal emperor Humayun where the Muslims of Delhi had taken refuge after communal riots.

He migrated to Pakistan in 1948 and studied at the Sindh Madarassa, Karachi and later at Sindh Muslim College.

He studied for an MA in Economics at Karachi University. While still studying, he joined Daily Imroze as a sub-editor in 1952. He later became a reporter. He reported on the historical student movement of 1953. Students from Dow Medical College decided to hold a Demands Day on Jan 7, 1953 and met the then education minister. Their peaceful procession was treated roughly by the administration for more than two days, and 27 people, including students and passers-by, were killed and many more wounded when police opened fire on them.

Jilani covered the passage of the first constitution of Pakistan in 1956. He also covered the first imposition of martial law in Pakistan in 1958.

He was appointed as the Daily Jang's correspondent in Delhi, India in 1959, becoming the first foreign correspondent of a Pakistani newspaper. He covered the 1962 war between India and China, and was imprisoned by the Indian authorities in 1965 as the war started between India and Pakistan. He was kept in solitary confinement for four weeks before being transferred to Tihar Prison, Delhi.

He was released in exchange for an Indian journalist who was detained in Islamabad, Pakistan.

Jang appointed him as the correspondent for their group of newspapers in London.

In 1973, he became the editor of Jang London. At the same time, Jilani contributed to the then BBC Urdu Service – now part of the BBC World Service – as a current affairs producer and reporter. He covered the First Islamic Summit Conference in Rabat in 1969 for Jang. He was awarded Iqbal Medal on Iqbal Centenary. He covered the Vietnam War Paris Peace Accords in 1973, the fall of the Berlin Wall in 1989, and the first election in a reunified Germany, for the BBC Urdu Service.

He resigned from the Jang London and joined the BBC Urdu Service as senior producer in 1983 where he produced four major series:
Asians in Europe
Shehar e Bekaran, on problems of big cities of the Indian sub-continent
Gaon Gaon Badalti Dunia (changing villages in the Indian Sub-continent)
Central Asian Journey (new challenges of newly independent states in Central Asia)

Jilani also authored three books - Wast Asia, New Independence, and New challenges; Gaon Gaon Badalti Dunya; and Saghar Sishe Lalo Gohar (a collection of articles and columns).

At present, Jilani writes Weekly London Letter for Akhbar e Jehan, Karachi, and columns for Daily Jasarat, Daily Aag, Lucknow, Daily Ausaf London and blogs for Dunya Lahore.

His spouse Mohsina Jilani is a renowned Urdu poet. She worked at the BBC World Service's Audience Research and took part in Women Program's Barge Gul at the BBC Urdu Service.

His daughter Mariam Jilani, worked as a producer of Arabic TV MBC and is currently a teacher while his son Obaid Jilani worked as a sub-editor for the Daily Awaz in London, The Financial Times and The London Evening Standard. At present he is a sub-editor at Which? Magazine in London.

Jilani's other son, Jonaid worked as a press officer for Muslim Aid, London, Oxfam, Oxford and World Animal Protection in London.