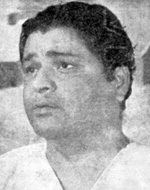 Majeed Lahori, born Abdul Majid Chohan in 1913 in Gujrat, was truly a people's columnist, according to Khalid Hasan, adding "what he wrote remains as delightful today as it was then."

Starting his journalistic career from Daily Inqalab in 1938, Lahori came to be known as a columnist who would talk about everything but in the garb of wit and satire. Afterwards he worked in a number of newspapers and also remained associated with the department of publicity. In 1947 Majeed Lahori shifted to Karachi and wrote columns for Anjam, Insaf and Khurshid.

Majeed Lahori started his column "Harf o Hikayat" in Daily Jang Karachi in October 1948. Along with his column writing, Majid Lahori also brought out a fortnightly magazine – Namakdan. He remained associated with Jang till his death on June 26, 1957.

Majeed Lahori invented a cast of characters through whom he often spoke. These characters became so popular that many readers believed them to be real persons. Some of them were Ramzani, Sain Suleman Badshah, Maulvi Gulsher Khan, Seth Tyre Ji Tube Ji, Bundoo Khan, Jumman Shah Barsati, Tajori Bhai, Bank Balance Ji and Sheikh Hammarullah. In 1971, 14 years after his death, his friend and fellow journalist, Shafi Aqeel, put together a collection of the columns he wrote for Jang.

(http://www.khalidhasan.net/2007/09/14/majid-lahori-the-people's-columnist/)
Photo courtesy: www.pakistanconnections.com