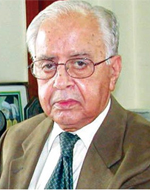 Editor-in-chief and publisher of Nawa-i-Waqt, Majid Nizami was in the field of journalism for almost half a century. He was born in Sangla Hill in Sheikhupura, Punjab, and got his early education there.

For his graduate and master's degrees, Nizami went to Government College and the Punjab University in Lahore.

During his student days, he actively participated in the Pakistan Movement. He joined the Muslim Students Federation. Liaquat Ali Khan, realizing his contributions to the cause of independence conferred upon him the sword of honor and the title of Mujahid-e-Tehreek-e-Pakistan.

Nizami went to England in 1954 and studied at the University of London, while also studying for his Bar degree from the Greys Inn.

Majid had to rush back to Pakistan after Hameed Nizami died to take over and run their publishing business. Like his brother, he also opposed General Ayub Khan and fiercely supported Fatima Jinnah during the presidential elections in 1965.

His outspoken journalism brought him into direct conflict and victimization by almost all the subsequent regimes in Pakistan. In spite of immense pressures, Majid strove to maintain an independent stance as far as his newspaper was concerned. From time to time he was offered key positions in the government by political leaders but he always declined, focusing instead on print media.

He died in Lahore on July 26, 2014 because of a heart ailment.

Source: The Oxford Companion to Pakistani History