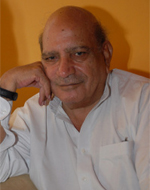 A senior journalist and human rights activist, I A Rehman is known for his outspoken views. He served as editor-in-chief of The Pakistan Times from 1989-90. Since 1990 he has been serving as a director at the Human Rights Commission of Pakistan.

During the turbulent years of 1970-71 that resulted in the breakup of Pakistan and the emergence of Bangladesh, Rehman, in his capacity as managing editor of the Urdu daily Azad, opposed the military action taken by the West Pakistan forces in what was then East Pakistan.

During the regime of military dictator Gen Ziaul Haq, Rehman worked as executive director of the weekly magazine, Viewpoint.

Besides numerous articles and papers, Rehman has to his credit three books: Jinnah as Parliamentarian (co-editor), Arts and Crafts of Pakistan and Pakistan under Siege (collection of columns).

He won the Nuremberg International Award for Peace and Human Rights in 2003, and the Magsaysay Award for Peace and International Understanding in 2004.

According to Dr Fauzia Saeed, I A Rehman is an institution. He is an example for the younger generation of journalists and civil society to learn from. For her, media in Pakistan are shallow and people should learn from people like I A Rehman, who strived for larger objectives like social justices, democratic values and human rights while maintaining impartiality at the same time.

Senator Farhatullah Babar says of I A Rehman, he is the only person who can say the most controversial things while remaining uncontroversial. "He has always spoken with sincerity and without any greed."

Sources: The Oxford Companion to Pakistani History and a news report in The Express Tribune in 2011.