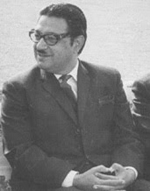 Altaf Gauhar was a man of extraordinary versatility, charm and intelligence. He was born in Gujranwala and received his education from the Government College, Lahore, after which he joined All-India Radio as a broadcaster.

He served the Pakistan government in various senior capacities. When General Ayub Khan assumed power in 1958, realizing the potential of young Altaf, he appointed him as Information Secretary.

During this period, unprecedented powers were bestowed upon Altaf to manage the press. Several draconian laws governing the press were passed, for which Altaf came under heavy criticism and for which he publicly apologized later.

Altaf left the civil service in 1969 and joined Dawn as editor. For his outspoken views, he was twice imprisoned; the second time when Zulfikar Ali Bhutto was in power.

Upon his release, he left the country and went to London where he joined the Bank of Credit and Commerce (BCCI). Being a sort of an intellectual impresario Altaf found time to simultaneously start from London academic journal Third World Quarterly; a monthly magazine South and also managed to launch the Third World Foundation.

He also wrote books on politics and some poetry and was deeply absorbed in the study of Quran of which he was to make several translations.

After BCCI's liquidation, Altaf returned to Pakistan and became editor-in-chief of The Muslim.

He died of cancer.