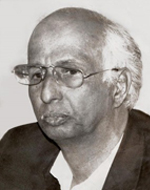 Born in Allahabad in 1931, Mr. Nisar Osmani had his early education in India. Migrating from India soon after the creation of Pakistan, Nisar Osmani stepped into practical life as a school teacher in Bahawalpur.
He later shifted to Lahore, did his Master's in Political Science, and started teaching at Dyal Singh College.
He joined the daily Dawn as a stringer in 1953 and became the bureau chief when Dawn established its full-fledged bureau in Lahore. He retired in 1991 but remained associated with the newspaper as special correspondent.

Mr. Osmani emerged as an upright progressive journalist and trade unionist during the Ayub era of 1960s. He was elected to various offices including President of Punjab Union of Journalists and Pakistan Federal Union of Journalists. He was a founder member of HRCP, had been its vice-chairman and was on its Council. For his fearless criticism of the governments of the day, Mr. Osmani was sent behind bars a number of times.

For three distinct periods of Pakistan's current history, the Ayub era, Z.A. Bhutto's rule and then General Ziaul Haq's decade of martial law, Mr. Osmani's stentorian voice continued to echo above the others' in newspaper columns and in the rulers' encounters with the press. He was unsparing even of the elected governments whether or not they had the sense to heed his timely admonitions. He was throughout a devoted democrat and a journalist par excellence.

He breathed his last at a local hospital where he got admitted early on September 3 after having had cardiac problem.