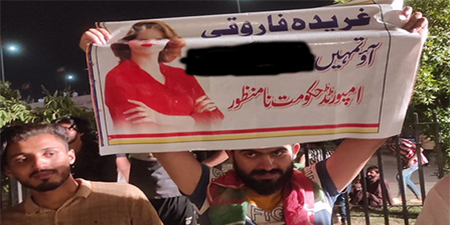 JournalismPakistan.com April 22, 2022 Cherie Conela



ISLAMABAD—Freedom Network has expressed regret over the objectionable banners seen at former Prime Minister Imran Khan's rally on Thursday against TV presenter Gharidah Farooqi.
Freedom Network called the banners highly objectionable in a tweet and urged the top PTI leadership to take notice. "If anyone has any complaint against any media group or journalists, they may approach relevant platforms for addressing grievances," it said.
In the past, PTI leadership has severely criticized her reporting. PTI's online activists and supporters continuously trolled her. In February, she was targeted for discussing the performance of then Minister for Communications Murad Saeed in her program G for Gharidah. Shortly after PTI unleashed its anger, the hashtag #GforGhatya became one of the top trends on Twitter.