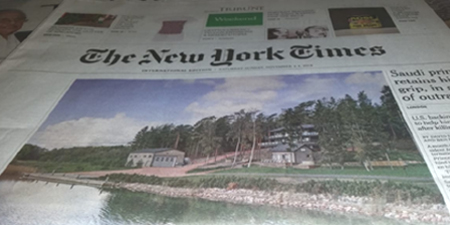 JournalismPakistan.com November 03, 2018


ISLAMABAD - Novelist Mohammad Hanif woke up to a blank space in The New York Times distributed in Pakistan along with The Express Tribune.
Space left blank carried his piece titled 'Blasphemy, Pakistan's new religion'.
His tweet said: "Wake up to the blank space. Apparently, NYT & its Pakistani partners think it's completely fine to have a blank colum on the front page. Kaun log o tusi? As you might notice the piece is only mildly critical of Maulana Khadim types."
Under the empty space, the readers were informed that "This article was removed for print by our publishing alliance in Pakistan. The New York Times and its editorial staff had no role in its removal. To read this article online visit NYtimes.com.
Hanif is the author of 'A Case of Exploding Mangoes', a novel on the rule and death of former military ruler Ziaul Haq in a plane crash in 1988.
In another tweet, the novelist expressed his reservations about leaving the blank space. "NYT in Pakistan left a blank space where this essay was supposed to appear. This is not the first time it's happened. I don't know why we write for a paper which is complicit in some very crude censorship. I wonder if my American colleagues can stand up to it."
On a number of occasions in the past, the NYT left spaces blank on the front page.
Commenting on the article, NYT columnist Nicholas Kristof said: "This is an outstanding essay about how Pakistan has been perverted by a distorted extremist brand of Islam that relies on blasphemy laws to bully people (but actually has some roots in the Hindu caste system). The question is whether Pakistan's leaders will stand up to it."