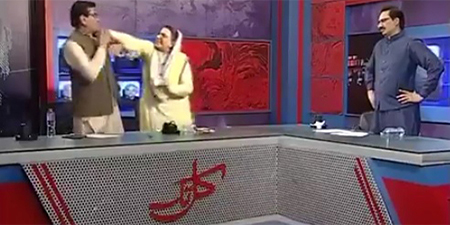 JournalismPakistan.com June 10, 2021 Cherie Conela



ISLAMABAD—A video clip of Special Assistant to Chief Minister Punjab on Information, Dr Firdous Ashiq Awan and PPP parliamentarian Qadir Khan Mandokhail is currently viral on social media, in which the two exchange abusive words during a television talk show.
The video clip shows the PTI leader during the recording of the Express News TV show 'Kal Takk' abusing Mandokhel and then slapping him in his face. Reportedly, the PPP leader accused the current government of corruption and bad governance leading to a shouting match. The program host Javed Chaudhry seemed helpless.
Later, Dr Firdous tried to clarify her position, claiming that Mandokhel had used foul language, which angered her. She said that only a one-sided story was being shared in the video. She demanded that the TV channel release the full video.
"During the talk show, PPP's Qadir Mandokhel threatened me," Awan said, adding that the PPP leader insulted her late father by using abusive language. "I had to take an extreme step in my defense," Awan tweeted along with a video statement.
She said that after consultation, she would take legal action against Mandokhel. The PPP MNA issued no statement.