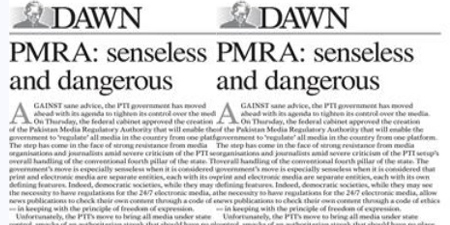 JournalismPakistan.com January 27, 2019


ISLAMABAD – Dawn has termed the creation of the Pakistan Media Regulatory Authority (PMRA) as senseless and dangerous.
In an editorial published on Saturday, the paper said the PTI government had moved ahead against sane advice with its agenda to tighten its control over the media.
"The government's move is especially senseless when it is considered that print and electronic media are separate entities, each with its own defining features."
The paper said that PTI's move to bring all media under state control smacks of an authoritarian streak that should have no place in a democratically elected setup.
"By its actions, the PTI government has shown contempt for the long, difficult journey taken by Pakistan's press. Over the course of the years, journalists have been imprisoned, tortured and killed in the line of duty. Their hard-won gains must be defended, in fact, built upon, not snatched away by a setup that seeks dictatorial 'solutions' through the creation of a new regulatory body — without realizing that it is setting a trap the government itself could fall into."
The editorial said it seems it is now up to the media itself to protect its freedoms, and unite in the face of any attempt to shake the foundations of an independent press.