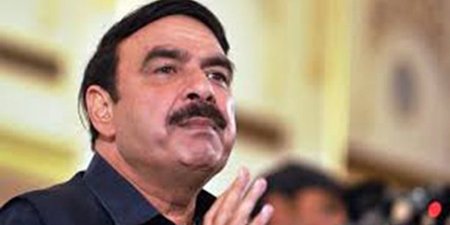 JournalismPakistan.com December 30, 2018


ISLAMABAD - Muhammad Ali Siddiqi, Dawn Readers' Editor has provided the paper's stance on some issues among them the decision to publish a story on the railway minister's comment he made thinking the mikes in front of him were off.
He admitted that Dawn received flak for publishing that story.
Minister for Railways Sheikh Rashid Ahmed (pictured) unknowingly spoke out to his deputy, saying Prime Minister Imran Khan had asked him to take over the information ministry. He hinted the premier was not happy with Fawad Chaudhry's performance.
That Dawn story received 160 comments online.
"All public figures — not necessarily politicians — are newsmakers. It makes news even when they say nothing when 'saying' was required. But if they do spew wisdom the cameras and mikes catch, the ink slingers will do their job," Siddiqi maintained.
He quoted two incidents where the politicians discussed or said something not intended for anyone but were picked by mikes, and made big news.
"On Aug 14, 1984, President Ronald Reagan told the American people: 'My fellow Americans, I am pleased to tell you that I have signed legislation to outlaw Russia forever. We begin bombing in five minutes.'
The president was, of course, joking as he prepared for his weekly radio broadcast. He thought his microphone was still being adjusted, but he didn't know his words were being heard by the world. There was uproar, his rival candidate in the Democratic Party began tearing him apart, Siddiqi wrote in his column titled 'Caught on camera' published on Sunday.
The other incident was when "in November 2011, shortly before a G20 summit in Cannes, French president Nicolas Sarkozy described Israeli Prime Minister Benjamin Netanyahu as a 'liar'. The man listening to him, President Barack Obama, reacted in a way that showed his tacit approval of his host's opinion of the Likud leader."
Siddiqi also took up the issue of Dawn increasing its price. "One of our readers protested against the recent price hike and asked why Indian newspapers were cheaper. One reason is obvious: India produces its own newsprint; we do not."
He also answered a reader who thought that Dawn's weather forecasts go wrong. "Well, Dawn doesn't make predictions on how the elements will behave on its own. Whether the winds and the clouds do or do not move according to the Met Office forecast, the credit (or discredit) goes to the weather-forecasting agency."
Photo courtesy: treasure.com.pk