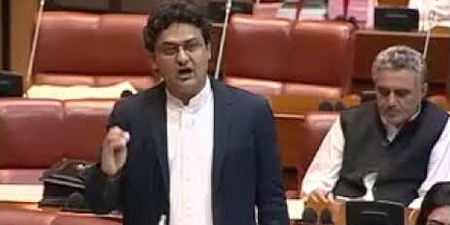 JournalismPakistan.com January 27, 2021


ISLAMABAD: Dawn on Wednesday opposed a bill by PTI Senator Faisal Javed proposing more powers to PEMRA to examine complaints against private channels of violating contractual obligations.
On Monday the Senate again rejected the bill as the opposition in the upper house feared that the government was using the rights of the working journalists to browbeat TV channels.
In an editorial —Pemra's powers—Dawn agrees with the opposition's view. "PPP Senator Sherry Rehman correctly described it as an attempt to gain further control over electronic media by using the 'backdoor.' She suggested discussions with representative bodies, including the Pakistan Broadcasters Association and the Pakistan Federal Union of Journalists before enacting such legislation.
The proposed bill called for amending Section 4 of the PEMRA Ordinance 2002. Under the proposed amendment, PEMRA would be responsible "for ensuring of signing, renewal, and execution of valid contract between a channel and correspondent, employee, journalist and reporter." It would have also given PERMA power to ensure "the contract must include description of duties of employees and remuneration to be paid."
Dawn, however, admitted that some media houses were violating their contractual obligations towards their employees, especially those lower down the pay scale. For example, payment of salaries can be delayed, sometimes by several months. But it maintained that it is not the regulator's job to "delve into human resource management; its role should be limited to the content on electronic media."
It is interesting to note that Dawn has slashed its employees' salaries and done rightsizing over the last two years. Journalists have staged demonstrations outside Dawn' offices in Islamabad and Karachi over its downsizing policy.
The Dawn editorial said the rejected bill was another attempt by the PTI government to stifle press freedom in Pakistan. The newspaper also blamed the PTI government for not releasing advertising dues it owes to media outlets. "This, coupled with the overall economic downturn, has resulted in hundreds of journalists losing their jobs as media houses try to cope with shrinking revenues."
The proposed bill's statement of objects and reasons said the media industry in Pakistan was facing a slowdown. "The brunt of which is faced by media employees, reporters, newscasters, and correspondents, etc. in the form of layoffs, pay cuts and late or no payments of salaries. In some companies, employees have been forced to take pay cuts which they accepted without any resistance fearing the consequence of losing a job. Many news channels have discontinued primetime shows and downsized its employment. Thus need is felt to comprehensively deliberate and legislate upon the exploitation of media employees by the channels and companies."