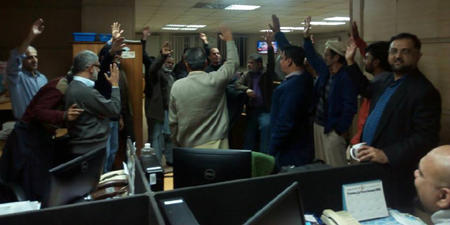 JournalismPakistan.com January 11, 2018


ISLAMABAD – Dawn staffers Thursday announced a boycott of this week's National Press Club elections for being treated "unfairly" by leaders of rival panels.
Amir Wasim, a senior reporter at the paper told JournalismPakistan.com it was a collective decision. "We arrived at a decision in a democratic way through voting in a meeting attended by the members of the reporting team and the news desk."
The staffers were upset over the way two of their candidates nominated for the polls were unceremoniously dropped.
"We were asked to nominate the candidates and when we did they were left out. To make it even worse, no one informed us about the decision to drop them and we felt humiliated," Wasim said.
However, he made it clear that Dawn journalists were not running a campaign calling on all others to boycott the January 13 election. "We want the election as scheduled but we will not be part of it."
Mubarak Zeb Khan, President of Rawalpindi Islamabad Union of Journalists (RIUJ) who is also a Dawn staffer, said the decision was not unanimous. "We believe in democracy and voting, and there are staffers who will take part in this democratic process," he said.
He said that there was no workers union at Dawn Islamabad. The staffers may have some personal reservations and this decision cannot become basis for a boycott.