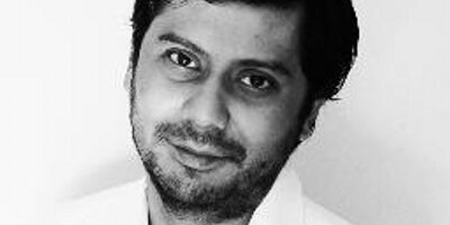 JournalismPakistan.com May 17, 2020


ISLAMABAD—Former Dawn journalist Cyril Almeida (pictured) has called columnist Haroon Rasheed a "clown" for claiming that former Prime Minister Nawaz Sharif left Pakistan after paying $500 million.
In the talk show "Muqabil" on 92News last month, Rasheed, quoting sources, claimed that Sharif paid $500 million in exchange for being allowed to leave the country.
When making the claim, Rasheed said that $445 million had been paid, but he did not know about the remaining "$55 million."
Of late, Almeida has used the word "clown" for anchors, including Nadeem Malik, Javed Chaudhry, and others.
On May 13, commenting on the Nadeem Malik show, Almeida said: "Clown anchor wants politicians to get along, a week after he tried to have a few ministers lynched..."
Similarly, on May 7, he simply said: "The clown brigade descends" while commenting on a tweet of Hafiz Tahir Mehmood Ashrafi.
When Geo reporter in the UK, Murtaza Ali Shah tweeted on May 2 about a doctor claiming treatment of COVID-19 with a traditional herb, Almeida termed him a clown. "Clown reporter promoting dangerous ideas..."
Almeida also called Javed Chaudhry a clown when he claimed that COVID-19 would end on May 18, citing the appearance of the Pleiades star cluster. "Clown anchor announces that corona will end on May 18 b/c of some religious stuff he has read and, wait for it, the Pleiades star cluster…clown anchor was recently declared by clown mullah Tariq Jameel as one of the best…"
Photo: Twitter (@cyalm)