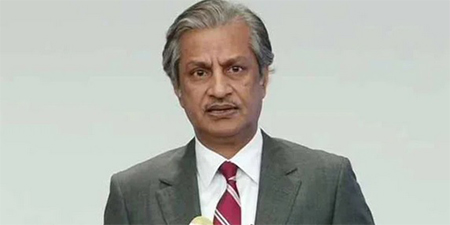 JournalismPakistan.com September 22, 2021


ISLAMABAD —The Islamabad High Court (IHC) has disposed of the petition filed by former PEMRA Chairman Absar Alam against the Federal Investigation Agency (FIA) after learning that the FIA had withdrawn the inquiry against him.
In some of his tweets, Alam had criticized the establishment for interfering in politics. In response, FIA initiated an inquiry against him. However, Alam challenged the FIA's notice.
While informing the court about the withdrawal of the inquiry, the FIA admitted that initiating an investigation against Alam was, in fact, a mistake.
Chief Justice Athar Minallah, hearing the case, remarked that freedom of expression was a matter of fundamental human rights, adding that harassing the citizen must affect society.
The court urged that the FIA should use these powers when its staff was professionally trained. The chief justice further remarked that the government should protect the freedom of expression rights. Justice Minallah, however, appreciated the FIA for admitting its mistake.
Additional Attorney General Qasim Wadud requested the court to dispose of this matter accordingly.
The court would take up this case on September 27. The petition cited secretary interior, director-general FIA, director of cyber crimes, and inspector Mazhar Shah of the FIA as respondents.
Photo courtesy: geo.tv