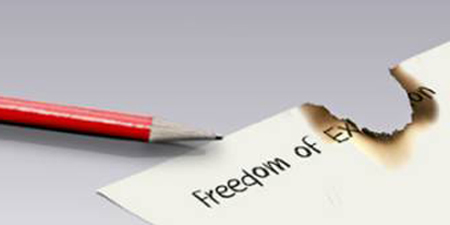 JournalismPakistan.com April 17, 2018


LAHORE - Journalists, editors, intellectuals and civil society activists have expressed serious concern over suppression of freedom of expression, rights-based movements, and dissent.
In a joint statement, the representatives of civil society and media took serious exception to the ongoing reign of repression against a section of media, rights-based movements and those who are critical of an extended role of non-elected institutions.
They cautioned against fascist designs, authoritarian machinations, and unconstitutional manipulations by autocratic and extremist forces to scuttle fundamental civil, human and social rights, usurp the rule of law, and hijack overall democratic processes and political transition.

Expressing their reservations about the fairness of next elections and transition to the next elected setup, they called on all parliamentary forces, civil society organizations and media bodies to thwart the authoritarian designs of the establishment against the truly representative system and sovereignty of the people.
Media and civil society activists demanded that ongoing arm-twisting of a section of media, including Geo Television and Dawn, the rights-based movements, including Pashtun youth movement for the civil rights of tribal people and other sections of dispossessed people must immediately end.
The meeting expressed dismay over the interim judicial order to censor former Prime Minister Nawaz Sharif 's and Maryam Nawaz's speeches, which is against freedom of expression, rather than proceeding against them under contempt of court law if they had at all committed any contempt of judiciary.
The participants of the consultation decided to form a broader alliance to protect freedom of expression/media, civil and human rights of the dispossessed people and to evolve a joint strategy to keep democratic transition on track by ensuring free and fair elections. Leading intellectuals, journalists, editors, lawyers and civil society activists at Safma Secretariat Lahore attended the meeting.