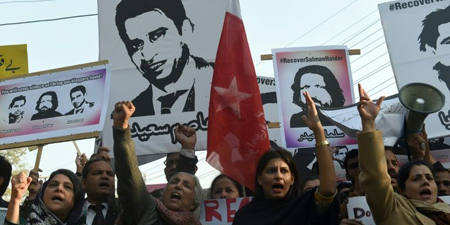 JournalismPakistan.com December 22, 2017


Five Pakistani activists who made international headlines when they went missing earlier this year were cleared of blasphemy charges Friday, a lawyer said.
The men, who used social media to stand against religious intolerance and at times criticized Pakistan's powerful military, vanished within days of each other in January, sparking fears of a state crackdown.
Four of them have since been released, with some accusing their captors of torture. No group claimed responsibility for their abduction, and Pakistan's government and military have denied involvement.
But during their disappearance, a virulent social media campaign to paint them as blasphemers began, triggering a flood of threats.
Blasphemy is a criminal offense in Pakistan and can carry the death penalty, though the state has never executed someone convicted of it.
But even mere accusations can spark mob lynchings and vigilante murders. Observers have said the allegations alone were enough to put the five activists' lives in danger.
On Friday, the Federal Investigation Agency (FIA) told the Islamabad High Court it could find no evidence against the five men.
"The FIA officials told the court it ... seems the five bloggers were not involved in blasphemy," Tariq Asad, one of the lawyers bringing the charge against the activists, told AFP.
"The judge remarked that no innocent person should be implicated in a false case of blasphemy," Asad said.
The campaign against the missing men spotlighted how extremist efforts to muzzle liberal voices using Pakistan's draconian laws have found a powerful new platform online, rights activists say.
The result is often self-censorship, and in the wake of the allegations, a number of liberal commentators shut down their accounts completely.
Ahmad Waqas Goraya, one of the activists who was released and lives in the Netherlands, told AFP the court should now investigate why Pakistan's mainstream media repeated the dangerous claims against him without proof.
He has previously accused Pakistan's security establishment of abducting and torturing him, and said Friday's ruling "has at least questioned the full impunity that the agencies enjoy."
Rights groups say Pakistani activists and journalists often find themselves caught between the country's security establishment and Islamist militant groups like the Taliban. - AFP