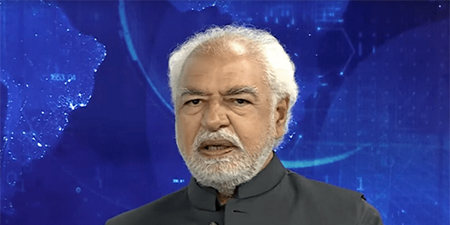 JournalismPakistan.com November 19, 2022


ISLAMABAD—Analyst Ayaz Amir in his column in the daily Dunya on Saturday, talked about facing personal backlash over the killing of his daughter-in-law by his son.
In September this year, Sarah Inam, a 37-year-old economist, wed Shahnawaz. She was murdered by her husband at the suspect's mother's home in Islamabad.
"After the incident, people taunt that I give a lecture to the nation, though I have been unable to bring up my son properly. My son is in (jail) and paying for his actions. There is regret and humiliation. What else there is except humiliation after such an incident," the veteran journalist wrote in his column.
"Life continues. I have never claimed piety. Can't do. My account is quite weak in his regard. But whatever I see and feel, I express it. What's wrong with saying that there should be conveniences in society."
He also talked about unsolicited advice he gets regarding preparing for the afterlife, adding that this is something between him and the Almighty. In this regard, he said everyone should take the route they think is better for them.
Photo credit: Aaj English TV